Camping in Croatia is not only an economical way to cut costs, it is also the best way to enjoy the beautiful landscape along the Croatian coast.
Considered a true institution of tourism in the former Yugoslavia, Croatia's campsites can be found in practically every tourist resort, from the best known to small towns snubbed by mass tourism. They are always located close to a beach or directly by the sea, immersed in a green pine forest that offers beneficial relief from the summer heat. They often boast a better location than hotels and flats, accommodation facilities that spread much later in Croatia.
This long tradition has led to a large number of campsites in Croatia, with offerings to suit all budgets, ranging from spartan green areas for tents and caravans offering limited facilities to luxury glamping with swimming pools, wellness centres and high-level services that are not afraid to compare with a five-star holiday village.
Apart from the spectacular location and the coolness provided by the shade of the pine trees, sleeping on a camp site has considerable advantages. One is certainly the financial savings because it is possible to cook on the campsite, thus saving having to eat every evening in a restaurant. Another is the security of an enclosed location, a detail much appreciated by families who can thus let their children go free. Some campsites cater specifically for young travellers and become a meeting place for those who want to socialise and have fun late into the night.
If you like the idea of a camping holiday but don't want to take your tent and all your camping equipment with you, you can opt for a mobile home, a modern and cosier version of a bungalow.
Among the best campsites in Croatia, we have selected a few for those who prefer the mobile home solution: six different proposals in terms of price and services, but all exceptional in terms of location and quality of welcome.
All campings in Croazia
Situated in an enviable position less than a kilometre from three beautiful beaches (Kovacine, Kimen, Melin), Mobile Homes Camping Kovacine is one of the most beautiful in Croatia for those who want a holiday immersed in nature without sacrificing comfort. It is located on the island of Cres, just a 15-minute walk from the main town and 14 km from the port of Merag.
The accommodation includes different types of Mobile Homes, from 2 to 4 persons, all equipped with a kitchen, private bathroom with shower, living room, and parking space for one car; the larger ones also have a terrace. The mobile homes are sufficiently spaced out to ensure good privacy.
The campsite has a swimming pool, beach volleyball courts, a wellness centre and a taxi boat service. Pets are allowed.
Parking
Restaurant
Pets allowed
Bar
Reception 24 hours a day
Rooms for disabled
WiFi
Air conditioning
Extra sanitary measures
2
Donji Babin Potok -

Donji Babin Potok 107 b
Ideal for those who want to spend their holiday surrounded by greenery and nature, the Big Bear Plitvice Nature Resort is located in Donji Babin Potok in the heart of Croatia. The complex offers accommodation with air-conditioned bedrooms and a fully equipped kitchen with an oven, microwave, toaster, refrigerator and coffee maker.
Guests can also enjoy free Wi-Fi, laundry facilities, a children's playground and access to a garden with barbecue facilities. The resort also features a restaurant serving Croatian cuisine and a sun terrace. Big Bear Plitvice Nature Resort is about 38 km from Entrance 2 of the Plitvice Lakes National Park and 127 km from Rijeka Airport.
Parking
Restaurant
Pets allowed
Bar
Laundry service
Rooms for disabled
Luggage storage
WiFi
Air conditioning
Extra sanitary measures
3
Novalja -

Katarelac bb - Zrce beach, Island of Pag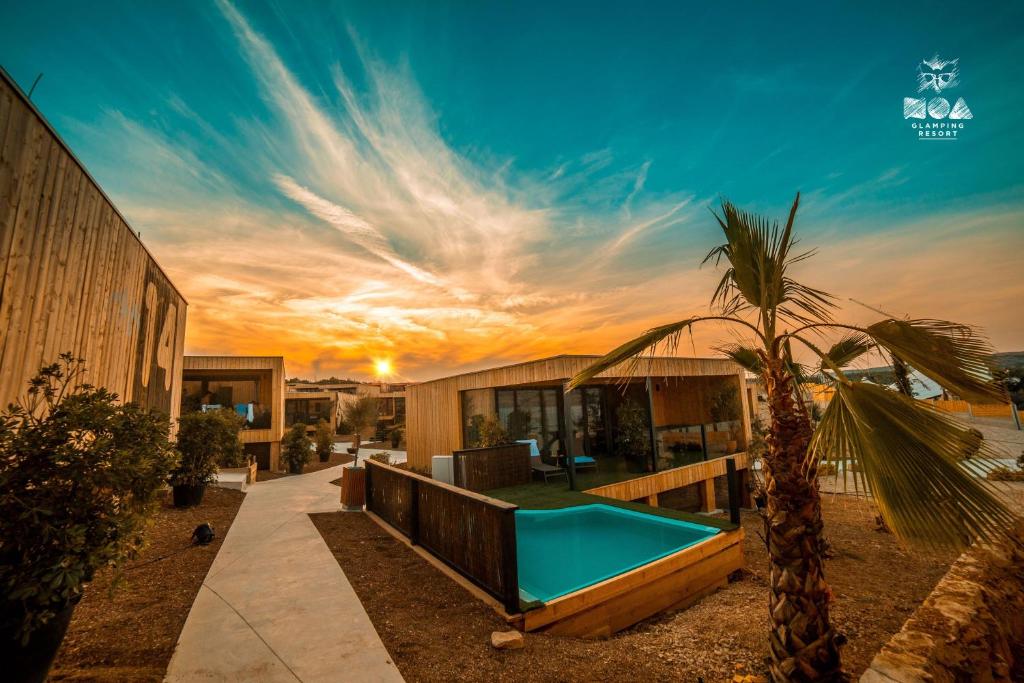 The Noa Glamping Resort is perfect for young people who want to enjoy a holiday of unbridled fun and glamorous clubbing. This luxury camp is in fact the official resort of Noa, one of the trendy clubs on Zrce Beach, the beach on the island of Pag famous for its nightlife.
The glamping resort consists of luxury accommodation units with designer furnishings in four different types, accommodating from 4 to 6 people, the most exclusive of which have a private pool. Each unit includes one or more bedrooms, a living area and a fully equipped kitchen.
Facilities available to all guests include an outdoor pool, gym and fitness centre, and a barbecue area on the beach.
Due to its proximity to discos and nightclubs, it is not recommended for those who want a holiday of silence and tranquillity.
Parking
Bar
Reception 24 hours a day
Gym
Airport shuttle
Luggage storage
WiFi
Air conditioning
Pool
Extra sanitary measures
4
Biograd na Moru -

Put Primorja bb
On the outskirts of Zadar, the best choice for campers is the delightful Camp San Antonio, a cluster of spacious and comfortable mobile homes with a contemporary design and a beautiful sea or pine forest view, capable of accommodating six people – perfect for a large family or group of friends.
Each unit consists of several bedrooms, living room, kitchen, private bathroom, large veranda with dining table and sun loungers, and private parking.
The camp is located just 300 metres from Bosana beach and less than 20 km from the city of Zadar. In the area you will find numerous places and attractions of interest.
Parking
Pets allowed
Airport shuttle
Laundry service
WiFi
Air conditioning
Extra sanitary measures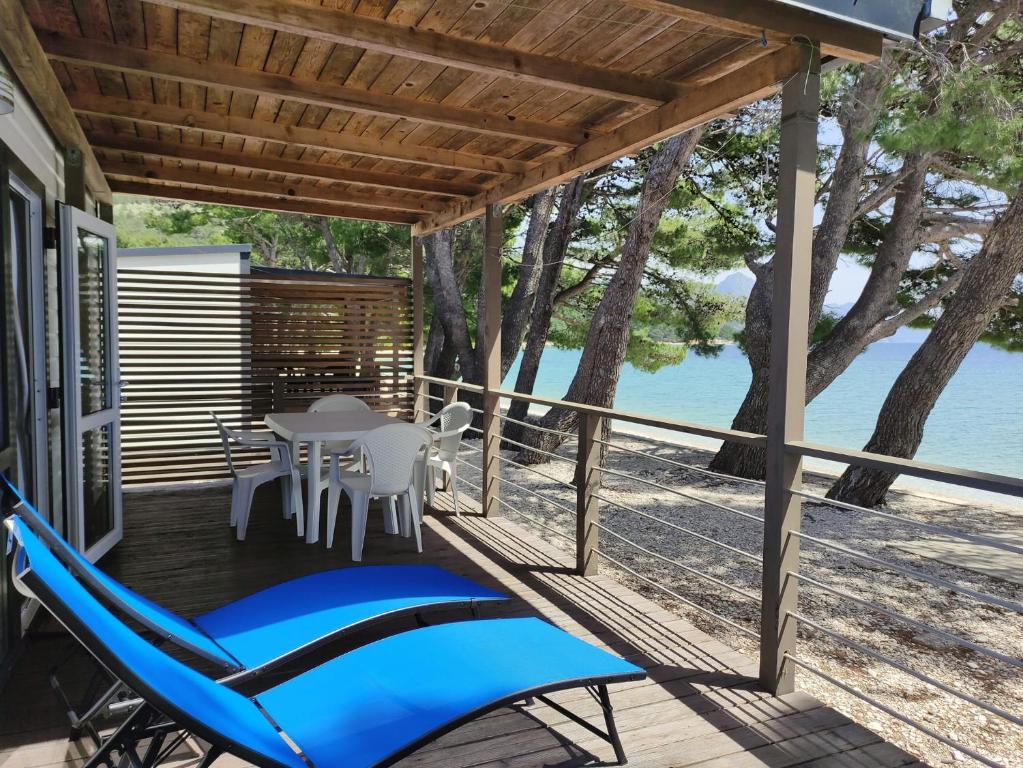 Another economical but quality option is the Kamp Dole campsite in Blato, less than twenty kilometres from the town of Makarska, the pearl of the Makarska Riviera considered to be one of the most beautiful coastlines in Central Dalmatia.
There are five types of mobile homes available, with prices varying according to the number of people they can accommodate (from 4 to 6) and the position (those in the first row directly on the sea are the most expensive). The furnishings are simple but functional.
The campsite provides guests with essential amenities and services such as a garden, barbecue and terrace.
Parking
Restaurant
Pets allowed
Bar
Reception 24 hours a day
WiFi
Air conditioning
Extra sanitary measures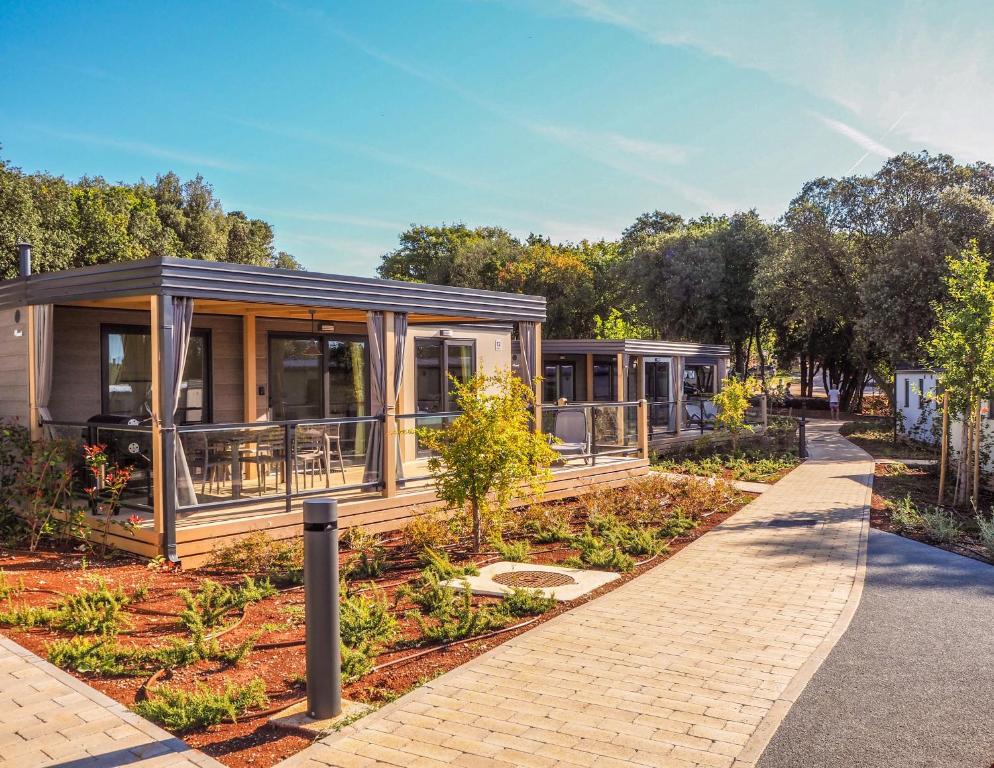 The Victoria Mobilehome in Istra Premium is a camping resort located in Funtana, near the town of Poreč. The complex offers accommodation of different types and price ranges. From fully equipped tents to premium mobile homes, from lux houses to wooden bungalows, the Victoria Mobilehome can cater for all needs. Regardless of the type of accommodation chosen, each accommodation offers a fully equipped kitchen with everything you need and a refrigerator.
The Camping Resort is located right on the seafront of Funtana Beach while Valkanela Beach is approximately 800 metres away. Guests also have access to a water park with outdoor pools and two restaurants. The Victoria Mobilehome in Istra Premium Camping Resort is 32 km from Rovinj, 10 km from Poreč and 62 km from Pula where the nearest airport is located.
Parking
Restaurant
Bar
Rooms for disabled
WiFi
Air conditioning
Pool
An excellent campsite for those wishing to explore Istria is the Victoria Mobilehome BI VILLAGE, located in the town of Fazana, within easy reach of popular tourist destinations such as Pula (6 km) and the Brijuni Islands.
You stay in air-conditioned mobile homes for 6 persons consisting of two bedrooms, a living room with a sofa bed, two bathrooms with showers, a kitchen and a small veranda.
The campsite has an outdoor swimming pool, tennis and table tennis courts and a children's play area.
Parking
Restaurant
Bar
WiFi
Air conditioning
Pool
8
Mali Lošinj -

9 Rujnica ulica
Ideal for those looking for simple but cosy accommodation Living Point Mobile Homes is a complex located on the beautiful island of Lošinj. Located 400 metres from Poljana Beach, it offers guests a garden, a bar, a restaurant and a private beach.
All accommodations are air-conditioned and feature a private bathroom, flat-screen TV, wardrobe, living room, equipped kitchen, terrace and sea views. Aquapark Cikat is 2.4 km away, while the Apoxyomenos Museum is 3.4 km away. Living Point Mobile Homes is 12 km from Lošinj Airport and 150 km from Pula Airport.
Parking
Restaurant
Pets allowed
Bar
Airport shuttle
Air conditioning
Extra sanitary measures
Types of campsites in Croatia
Campsites, like hotels, are also rated with stars, in this case however from one to four.
The best are therefore the 3-4 star campsites, but do not disdain campsites of a lower category: the lesser stars may be due to a lack of services (e.g. shops within the campsite) and not necessarily to poor cleanliness or an unattractive location.
An unofficial classification that can, however, help you choose the best campsite for the type of holiday you want to take is that by size.
Large campsites generally correspond to campsites that were once state-owned. They were the first to be opened and therefore took up the best positions.
Small campsites were opened in more recent years and generally cannot boast a seafront location, but they make up for this with warm family management and competitive prices.